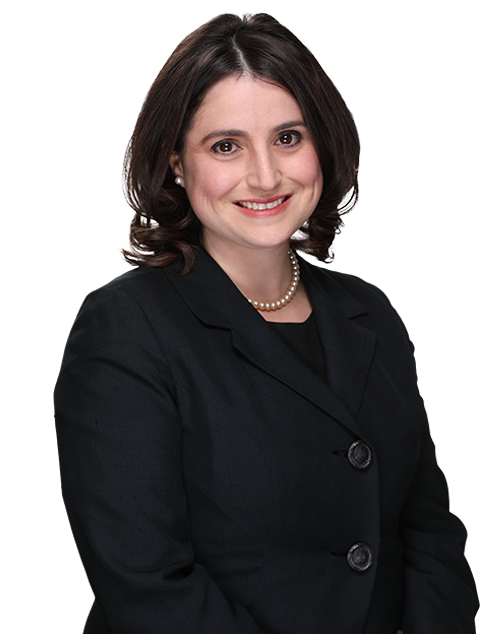 Emily V. Cuatto
Partner - Los Angeles Office
How Emily Helps Clients
Emily Cuatto is a Certified Appellate Specialist who has appeared as lead appellate counsel on behalf of numerous clients, including automobile manufacturers, healthcare entities, and large insurers in the California, Oregon, and Nevada Supreme Courts, the U.S. Court of Appeals for the Ninth Circuit, and the California Court of Appeal. In addition to her work briefing and arguing appeals, she frequently partners with trial teams to develop legal strategies and preserve appellate issues during trial. She has served as appellate and trial counsel in a wide range of civil practice areas, including insurance coverage, business torts, catastrophic personal injury, and products liability.
---
Emily serves on the California Lawyers' Association Business Law Section Insurance Law Committee and coordinates the firm's pro bono efforts. Emily is a past recipient of the Harriett Buhai Center for Family Law's Volunteer of the Year award for her work representing on appeal a mother seeking expanded visitation rights with her son.
Emily is a 2016 Fellow of the Leadership Council on Legal Diversity (LCLD). The LCLD is an organization of more than 200 members who serve as either general counsel of major corporations or managing partners of leading law firms. LCLD develops action programs designed to help a new and more diverse generation of attorneys ascend to positions of leadership.
Before joining Horvitz & Levy, Emily worked in the Santa Monica office of Bingham McCutchen LLP, where she handled a variety of complex commercial litigation matters involving insurance coverage, contracts, employment, and business torts.
Between college and law school, Emily taught middle school special education in New Orleans, Louisiana, through the Teach for America program.
Representative Matters
Yahoo!, Inc. v. National Union Fire Insurance Company of Pittsburgh, PA (2021)
Ninth Circuit rejects insured's argument for contract damages exceeding the benefit of the insurance bargain
Putt v. Ford (2021)
Court of Appeal reverses multimillion dollar jury verdict finding Ford 100% at fault in an asbestos case
Newman v. Larios (2020)
California Court of Appeal affirms a judgment based on a settlement offer made pursuant to California Code of Civil Procedure section 998, and rejects plaintiff's contentions that acceptance was invalid
Michery v. Ford (2019)
Ninth Circuit holds that district court did not err in permitting defendant to withdraw comparative fault defense during trial
Stennett v. Miller (2019)
California Court of Appeal upholds wrongful death statute against equal protection challenge
Victaulic v. American Home Assurance Co. (2018)
California Court of Appeal reverses $46 million punitive damage award against insurer
Ochoa-Valenzuela v. Ford (2017)
In products liability case, Ninth Circuit affirms district court's decision to exclude as irrelevant the testimony of plaintiff's expert, who was former government lawyer, about the applicable federal motor vehicle safety standard and how the federal agency created it
Edwards v. Ford (2017)
In products liability case, Ninth Circuit affirms district court decision to instruct jury on only the risk-benefit test for design defect, and not on the alternative consumer expectations test
Licudine v. Cedars-Sinai Medical Center (2016)
California Court of Appeal adopts "reasonable probability" standard for lost earning capacity damages
Hartford Casualty Insurance Co. v. J.R. Marketing, LLC (2015)
California Supreme Court permits insurers to seek reimbursement directly from Cumis counsel for objectively unreasonable billings
Albert v. Mid-Century Insurance (2015)
California Court of Appeal holds that trespass to trees is not covered by a general liability policy
Cann v. Stefanec (2013)
California Court of Appeal holds that primary assumption of risk doctrine bars suit by college swimmer injured in weight room accident
Education
University of California, Los Angeles, School of Law
J.D., 2008
Stanford University
B.A., 2003
Clerkships
Hon. Milan D. Smith, Jr., U.S. Court of Appeals, Ninth Circuit (2009-2010)
Hon. R. Gary Klausner, U.S. District Court, Central District of California (2006) (extern)
Bar Admissions
California
Oregon
Washington
U.S. Supreme Court
U.S. Court of Appeals, Ninth Circuit
U.S. District Court, Central District of California
U.S. District Court, Eastern District of California
U.S. District Court, Northern District of California
Professional Associations
Awards
Super Lawyers "Rising Stars" (2014-2018)
Top 50 Women Rising Stars in Southern California
Pro Bono Volunteer of the Year Award, Harriett Buhai Center for Family Law (2014)
Publications
Insurance Law Update, California Lawyers' Association 2020 Annual Business Law Review (forthcoming)
Co-Author, Green Sheets, ASCDC Verdict Magazine (2014-present)
Returning to Rutherford: A Call to California Courts to Rejoin the Legal Mainstream and Require Causation be Proved in Asbestos Cases under Traditional Torts Principles (Nov. 23, 2016) Southwestern Law Review
When Interpreting Ambiguous Terms, Consistency Prevails (Nov. 12, 2014) Daily J., Insurance Supplement, p. 9
From Secrecy to Disclosure (Aug. 5, 2013) The Recorder
In Practice: Post-Trial Motions — To File or Not (June 26, 2013) The Recorder